To whom it may concern,
We would like to extend our sincere congratulations to all of you for
your continued support.
We, Association for the Promotion of Electric Vehicles (APEV Japan) is
partnering with MOVE EV, an online event promoting Electric Vehicles and
Charging Infrastructure in Asia.
Government agencies and companies from Asian countries will exhibit and
hold panel discussions on the event.
Participation is free, so please join us.
■Title: MOVE EV_2021
MOBILITY RE-IMAGINE:INNOVATION, TECH, PERFORMANCE FOR ELECTRIC VEHICLES
IN ASIA
■Date & time:10th March 2021 Wed JST 9:55~19:05(SGT 8:55~18:05)
■Message from the organizer
Join us this March 10 at Asia's most important EV and Charging event
virtually!
Network with over 1500+ stakeholders and hear from 70+ expert speakers
on the latest industry developments and upcoming projects happening in
this region.
Connect with our innovative exhibitors too as they showcase how their
technologies can help transform your electrification journey.
Join us online from the comfort and safety of your home or workplace.
Registration is FREE for all to attend.
*Quote "APEV" in the promocode box so that we know how you got to know
about the event.
■Agenda of Lectures and panel discussions
Opening Panel: South East Asia in spotlight: The development of green
mobility in the region
Accelerating adoption of electric two wheelers in South East Asia
Driving electric mobility in South East Asia
Developing a comprehensive plan for all-electric public transport
The changing role of car manufacturers for the adoption of e-mobility
Advancing the electrification of commercial fleet
Facilitating the interoperability and standardization of charging
station
Building charging infrastructure for widespread adoption of electric
vehicles
Closing Panel: The convergence of energy and mobile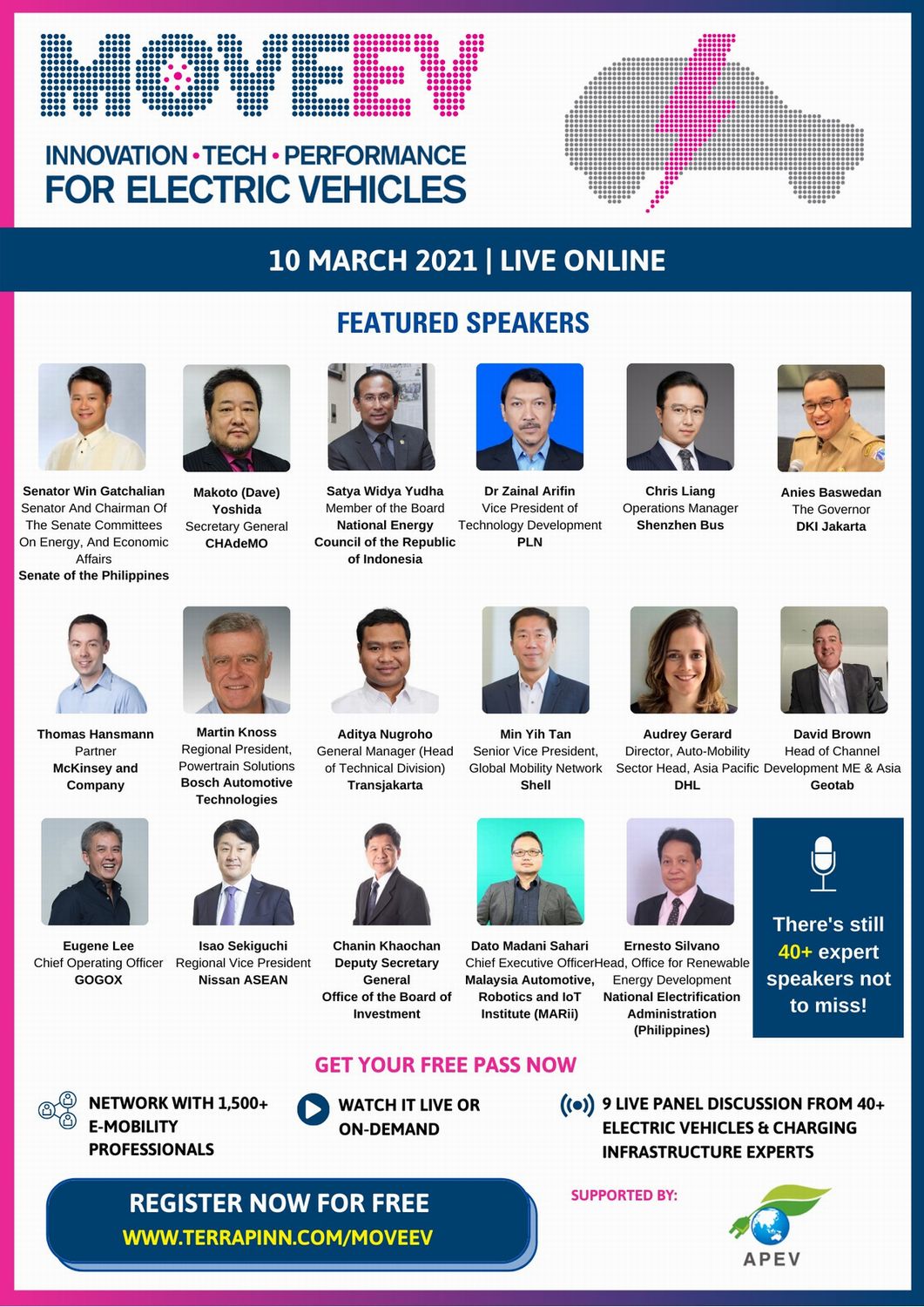 ★Inquiries
Association for the Promotion of Electric Vehicles
III FUKUTAKE HALL THE UNIVERSITY OF TOKYO
7-3-1, Hongo, Bunkyo-ku, Tokyo 113-0033, JAPAN
TEL : +81-50-3375-4937 FAX : +81-50-3153-2686