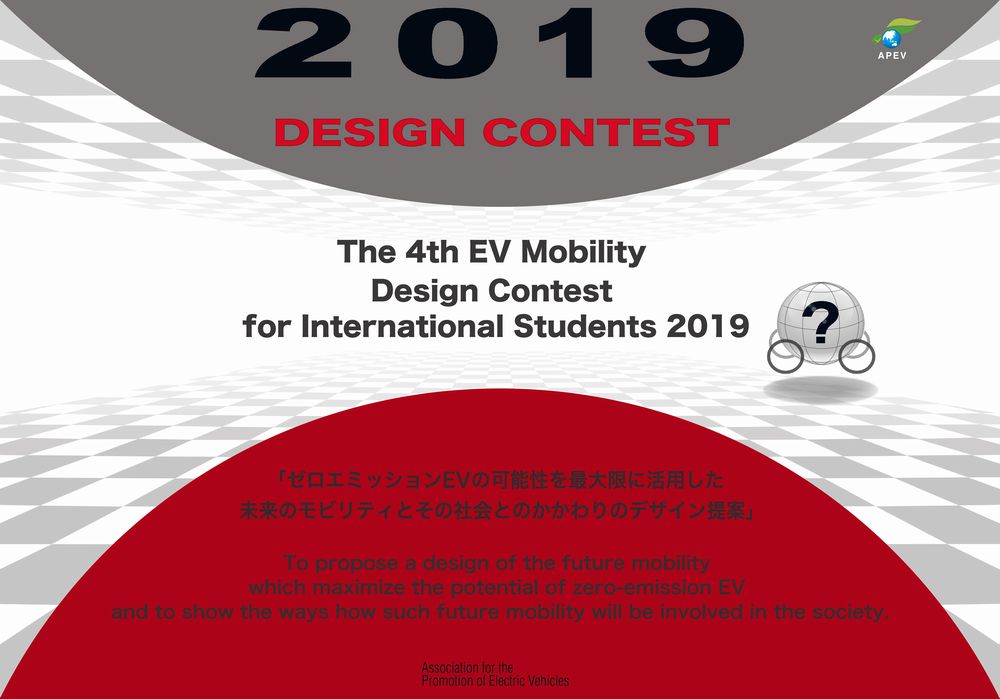 To whom it may concern,
This is the secretariat of the Association for the Promotion of Electric Vehicles (APEV).
Thank you very much for your cooperation.
 Since 2013, APEV has organized "EV Super Micro Mobility Design Contest for International Students" in conjunction with the Tokyo Motor Show.
From 2017 the target is not restricted to the super micro mobility but expanded to electric vehicles in general.
Furthermore, APEV would like to show the concept and scheme of the mobility society in the future and new approaches to the environment issues, with the creativity and planning ability for the designs.
This year's fourth event will be held as part of "Tokyo Motor Show Symposium" organized by Japan Automobile Manufacturers Association, Inc. (JAMA) .
Not only APEV members but also general people can participate, so we would like you to join this exciting event!
★How to register in advance
(Sorry, Peatix is written in Japanese only. Please write you information in English.)
★About the entry and Tokyo Motor Show Ticket
On 27th of October, you do not need the Tokyo Motor Show Ticket to enter the Conference Tower where the symposium is held.
Please show your free ticket you purchased from Peatix at the reception counter on the 6th floor of Conference Tower between 1:00pm to 1:30pm.
For the first 200 Peatix applicants, we will provide the coupon for Tokyo Motor Show Ticket at the reception counter. You can exchange the coupon with the actual Tokyo Motor Show Ticket when all the program for afternoon is finished.
■Outline of this event
[Title] Final Screening and Award Ceremony of EV Mobility Design Contest for International Students 2019/ APEV Symposium
[Date and time] October 27, 2019 (Sunday) 10: 30-16: 30 (with lunch break)
[Venue Access]
Tokyo Big Sight Conference Building 6th Floor Conference Room / 3-11-1 Ariake, Koto-ku, Tokyo 135-0063, Japan
Please enter from Reception Hall in Conference Tower 1F on above MAP
[Program (plan)]
◎ Morning: 10: 30-12: 15 * 10: 00 Start of reception
1) Keynote speech: Yoichi Hori, Professor, Graduate School of the University of Tokyo
"Cars in 100 years-motors / capacitors / wireless-"
2) Symposium: 「Toward a 100-year major revolution in the automotive industry.What a design education should be!」
Discussion by leading designers such as Shiro Nakamura, Kiyoyuki Okuyama, and Akihiro Nagaya who are judges of this contest.
Moderator: Toshio Yamashita, President of INTERROBANG DESIGN Co., Ltd.,
APEV Director
◎ Afternoon: 13: 30-16: 30 * 13: 00 Start of reception
1) Final screening of the "EV Mobility Design Contest for International
2) Lecture: Mr. Ikuo Hirota, Visiting Researcher, Electric Vehicle
Research Institute, Waseda University "The Future of Electric Vehicles Running on Solar Energy"
3) "EV Mobility Design Contest for International Students 2019" Award Ceremony: Based on the results of the final judging, the judging committee will select each award, such as the highest award, and award a certificate or supplementary prize.
* Please note that the time and contents are subject to change without prior notice.
★ Contact:
Association for the Promotion of Electric Vehicles (APEV)
EV Design contest executive committee secretariat Gen Yasujima